Customized PM Cartoon and Site:
Take a Break and Have a Laugh
by Karey Rees
I love to laugh. I like stupid jokes, especially "punny" ones. I found this site and I thought I'd share it for all to have fun with.  Sometimes it's good to take a break from the monotony of the day for a good laugh…
Check out: http://www.projectcartoon.com/
Project Cartoon allows you to create your own version of their cartoon blocks to tell your own Project Management woes.  Give it a whirl.
Here's one I made to reflect a recent project: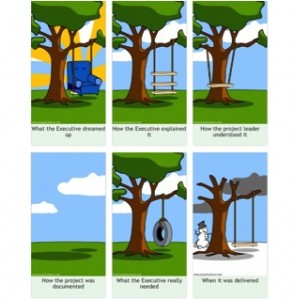 Maybe you can create a cartoon for your own team or project.
Have fun and share your cartoon links in the comments, I'd love to see them!
https://forwardmomentum.net/wp-content/uploads/2019/01/fm-logo-low.jpg
0
0
vwrona
https://forwardmomentum.net/wp-content/uploads/2019/01/fm-logo-low.jpg
vwrona
2013-10-13 09:12:39
2015-07-31 16:33:53
Customized PM Cartoon and Site:
Take a Break and Have a Laugh