Are you Challenged by the Following?
How do I achieve my organization's goals?
How do I gain executive buy‐in?
How do I attract, engage and retain employee talent?
Vicki Wrona, MBA, PMP
President, Forward Momentum, LLC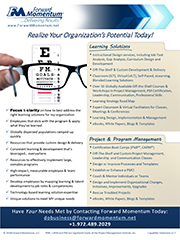 Click here for our detailed Capability Statement in Adobe PDF format.
Forward Momentum, LLC, is a privately held small woman-owned business that has operated since 2000 and is registered and current on SAM (System for Award Management).
PMI® Global Registered Education Provider (REP):# 2727
Company Name:Forward Momentum, LLC
Company Address:19701 Bethel Church Rd, Suite 103-315, Cornelius, NC 28031
DUNS:10 59 30122
Company Status: Economically Disadvantaged Woman Owned Small Business (EDWOSB and WOSB), PMI Global REP, Registered and Current in SAM
Clients Trained:>13,000
Training Tracks:
– PM Certification
– Project Management
– Leadership / Communication
– Professional Skills
Modalities:
– Classroom (ILT)
– Virtual Classroom (vILT)
– eLearning and Pre-recorded
– Blended or Hybrid Approach
PMP®Exam Prep:>6,000 Trained
First-Time PMP® Pass Rate: 92% (PMI® target is 74%)
PDU Courses:>50
Forward Momentum, a Woman-Owned, Small, Disadvantaged Business, opened its doors in April 2000 to deliver project management, professional development and leadership training and consulting to Fortune 500, federal and state government, and non‐profit organizations. On average, each Forward Momentum team member boasts over 15 years of experience in learning and talent development, including facilitation, consulting, instructional design and/or program management.
Forward Momentum provides training as a Global Registered Education Provider (REP) with the Project Management Institute®(PMI®). In 2015, the company self-certified as an EDWOSB/WOSB through the Small Business Administration (SBA).
Besides conducting business globally on five continents, we have a local presence in the following areas:
| | |
| --- | --- |
| • Dallas‐Fort Worth/San Antonio, TX | • Charlotte/Raleigh-Durham, NC |
| • District of Columbia (DC) / Virginia / Maryland | • Chicago, IL |
| • New York (including Albany) / New Jersey | • Orlando, FL |
541330 – Engineering Services
541519– Other Computer-Related Services
541611– Administrative Management and General Management Consulting Services
541618– Other Management Consulting Services
611420– Computer Training
611430– Professional and Management Development Training
611691– Exam Preparation and Tutoring
Co-developed innovative blended learning program earning PMI's Professional Development Product of the Year Award
Completed multi-year Job Task Analysis (336 tasks) & course development (134 hours) for large Federal Government agency
Created processes & templates to decrease Federal Agency long-term planning cycle from 2 years to 3 months on approx. 200 projects annually
Ranked as #1 speaker in 2016 and #2 in 2017 based on downloaded recordings for a leader in online PDUs
PMP®class participants achieve 92% first-time pass rate; industry average is 74%
Designed / created custom curriculum in a variety of industries
Recommended one streamlined curriculum for large State Government by completing gap analysis (383 hours of training, 33 courses, 491 files)
Updated & delivered annual 5-month Project Management Mentoring Program for large State Government; led for 4 years
Selected to serve on PMI's committee to write & review the PMBOK®Guide 4th edition
LEARNING SOLUTIONS
Instructional Design "Learn by Doing" Methodology Coupled with Real-World Examples that Creates an "Emotional" and "Skill" Connection
Off-The-Shelf and Custom Development / Delivery
Classroom, Virtual, eLearning and Blended Learning Solutions
Certification Boot Camps (PMP®, CAPM®and CBAP®)
Globally Available Courses and Workshops in Project Management, Certification, Leadership, Communication and Professional Skills
Blended Learning Boot Camp: Learn to Design, Implement and Manage Your Solutions
PMI®-Registered Project Management Training in the Classroom, Virtual Classroom or Self-Paced:
Forward Momentum has developed a catalog of PMI®-certified training courses designed to teach management skills. In addition to PMP®Certification Exam Prep courses with a verified first-time pass rate of 92%, topics include: "Practical Project Management for Today's Complex World," "Project Triage: Rescuing Troubled Projects," "Managing Organizational Change," "The PMO: Developing & Leading the Project Delivery Organization,""Overcoming Organizational Barriers to Unlock the Value of Project Management"and more. Please refer to Forward Momentum's Course List for a full list of courses.
Professional Development & Leadership Skills Training:
Forward Momentum has developed a catalog of instructor‐led courses that address areas of leadership, professional development, business skills and communication skills. These courses target improving organizational performance. Topics include: "Leadership Lessons That Work," "Results-Oriented Communication," "Dealing with Difficult People," "Developing High Performance Teams," "Facilitation Skills," "Business Writing for Results" and more. Please refer to Forward Momentum's Course List for a full list of courses.
STRATEGIC CONSULTING AND MENTORING
Project Management: Coaching and Mentoring, Rescuing Projects and Establishing PMOs
Instructional Design, including Job Task Analysis, Skills Gap Analysis and Curriculum Design / Development
Learning Strategy Road Map
White Papers, Blogs and Templates
MANAGED SERVICES
Project and Program Management: Performance, Coaching and Mentoring
Expert Classroom and Virtual Facilitators for Classes, Meetings and Conferences
Blended Learning Design, Implementation and Management
Forward Momentum provides hands-on expertise in managing all-sized projects, programs, classes, meetings and conferences.
The Forward Momentum Team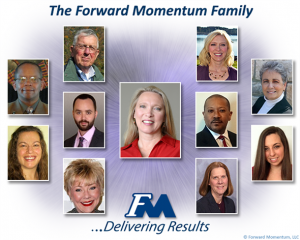 Forward Momentum Instructional Systems Designers (ISDs) and PMI®-certified project managers provide on‐site management and/or support while at the same time ensuring that each member of the client project team becomes more effective for future success. Forward Momentum's attention to detail and personal approach has helped many organizations reach their goal of increasing organizational project management sophistication by equipping employees with the skills and knowledge to practically and effectively approach complex, cross‐functional projects in an orderly fashion.
Forward Momentum senior consultants are also able to step in to provide the interventions needed to methodically rescue projects that are in danger or to help establish consistent practices through a Project/Program Management Office.
Contact us today to get started delivering results.