New Meeting Paradigm: Mega
Multi-tasking or Supreme Selfishness?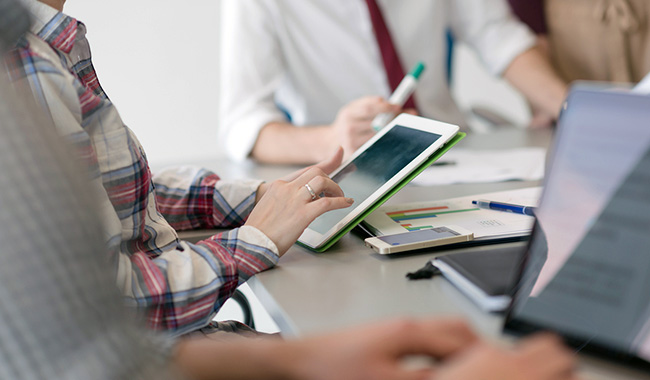 By Kathy Martucci, PMP
Picture it: the weekly status meeting is in full swing as the Project Manager discusses critical path activities with the project management team. As your attention wanders and your gaze curiously assesses the others in the room, you are surprised to observe:
16 team managers more or less engaged in the discussion one moment listening with varying degrees of interest and the next using one (or more) of the total of 40 devices in the room
The functional lead typing an email on his tablet while glancing at his vibrating phone
The training lead madly texting on two phones, one after the other
The technical lead sending an instant message to ask about an action item that just surfaced
No one, most notably the folks truly engaged in the discussion, appears annoyed at the blatant use of electronics
There are no do-overs, no one asks for a repeat of anything stated or says "huh?" if called on mid-tweet. Everyone seems to be productive and you know the team is high performing.
Hold on, what is happening? On my last project during meetings a scribe furiously took notes while we sat in rapt attention. There was a recap of decisions, action items and critical issues at the end of the meeting. Other team members may have been mindlessly doodling or making a shopping list but they were mainly focused on the discussion at hand. It was considered rude to check email and ruder still to reply to that email in meetings.
Having experienced the above scenario first-hand and in doing some subsequent research, I was surprised to find that 76% of professionals still consider that checking email and texting during meetings is annoying and counter-productive. (www.resourcefulmanager.com, USC Marshall School of Business, 2015). However, The USC Annenburg Center for the Digital Future makes a further distinction which was not surprising – only 54% of staffers aged 18-24 disapproved.
There's at least one alternative school of thought out of Claremont Graduate University. "CEOs and corporate leaders should encourage their employees to use their Smartphones as tools for increasing their company's efficiency. Using Smartphones in the workplace can be valuable in three ways: promoting autonomy, strengthening relationships with peers as well as superiors, and improving knowledge-sharing. Moreover, these three main factors can increase employee job satisfaction, which leads to better efficiency in the workplace. Organizations will be better able to successfully adapt with changes that are occurring every day by integrating the use of Smartphones in the workplace. ("Smartphones in the workplace: Changing organizational behavior, transforming the future"; Thiraput Pitichat, Claremont Graduate University, 2013)
Let's review the benefits and disadvantages of using electronics in meetings:
| | |
| --- | --- |
| Pros | Cons |
| Faster communication | Lack of a unified device platform |
| Increased consumer relationship building | Limited control and security risks |
| Flexibility | Scattered focus of participants |
| Global reach | Decorum perspectives |
| Keeping everyone engaged (shared information) | Negative impact on personal contact |
| Instant access to resources | Unnecessary interruptions |
I still don't know whether to be amazed at my colleagues' performance in that meeting or be annoyed by their blatant lack of attention to the boss (and others). Am I just "not with it"? Do I have a valid point? What's your position?

Full Course: Effective Facilitation Skills / Leading Productive Meetings (1 day)
Click here for our full list of available courses!
https://forwardmomentum.net/wp-content/uploads/2017/05/modern_meeting_small.jpg
380
650
vwrona
https://forwardmomentum.net/wp-content/uploads/2019/01/fm-logo-low.jpg
vwrona
2022-10-24 05:30:00
2022-10-24 09:27:12
New Meeting Paradigm: Mega
Multi-tasking or Supreme Selfishness?