Balancing Project Portfolios:
The Double Dimension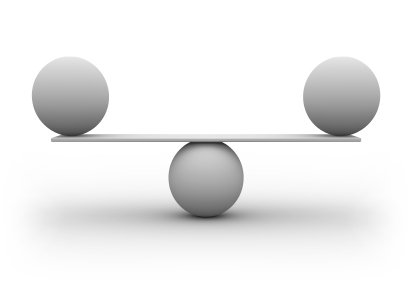 By Kathy Martucci, PMP
Note:  This is part 5 in our series on portfolio management. See below for previous entries.
Before we begin, let me start out with two definitions that may seem obvious…but usually aren't.
Program: a program is comprised of projects that are related in some fashion and bring benefits to the organization by being run together rather than one at a time (or not at all).
Portfolio: the organization's complete roster of projects regardless of type, complexity, etc.
A program is administered by a program manager, and it is only one portion of the portfolio. The portfolio, with all its combined benefits and liabilities to the organization, is the responsibility of executive management. Executives must examine and balance the portfolio to achieve the maximum benefit while minimizing risk and liabilities. The goal is to fund deserving efforts, produce the highest payback from each investment and protect the organization from utilizing strategic resources for "pet projects".
As with everything that executive management considers, the strategic plan of the organization should offer a strong guiding principle to this exercise. In addition to alignment with overall corporate strategy, organizational resource usage and allocation must be factored into decisions about maintenance of the portfolio.
One dimension of balance may be created by stocking the portfolio with three different types of projects:
Ongoing support: often the projects that no one wants. They are not fun to work on, not anything new. However, they are vital to support the business and should comprise a good share, perhaps up to a third, of the portfolio.
Advance strategy: used to maintain and increase market competitiveness, these projects will make up a majority of the portfolio.
Revolutionary: now, these are the fun projects everyone wants to do! They are the riskiest type of project for any business but should make up some portion of the portfolio or stagnation may set in.
Of course, the organization must define – and agree on the definition – of these project types. Once equipped with solid criteria, it would be relatively easy to categorize each project under consideration.
The second dimension of balancing the portfolio is the mix of projects within each type. No doubt every organization has many potential responsibilities and opportunities and only so many resources to apply to them. Fortunately there are many selection models to choose from, ranging from the most simple to extraordinarily complex.
Which is best?  Often, organizations spend a lot of money trying to decide which projects to do; any model used must be realistic, robust but flexible, easy to use and cost effective.
Some models to be considered include:
Checklist: best used if time is of the essence, this model employs a few criteria against which to measure the projects. For example, if the corporate priority is time to market, perhaps that criterion and cost (or cost and risk, etc.) would be on the list.
Weighted criteria: although it is sometimes difficult to assign weights or scores to criteria, this method is used quite extensively. Projects are assigned scores made up of rank times weight and the highest scores get to stay in or join the Portfolio.
Profile model: using two criteria, for example risk and return. Perceived risks (very subjective) and calculated return are plotted and projects can be analyzed according to where they fall in the graph.
Financial: including discounted cash flow analysis, net present value and internal rate of return, these models are all based on the time value of money and are very popular models for project selection.
A wide variety of selection methods may be appropriate for specific companies and project circumstances. Some projects require financial evidence of their viability. Others may demonstrate no more than an acceptable potential when compared to other options. In other words, any of the previously discussed selection methods may be appropriate under certain situations.
Regardless of the approach that a company selects, we can be sure of one thing:  Making good project choices is a crucial step in ensuring good project management downstream.
How does your organization make these choices?
The other parts are: 
Part 1 – Projects Projects Everywhere: A Portfolio Management Approach
Part 2 – Elements of Portfolio Management: Developing the Compelling Business Case
Part 3 – Portfolio Management: Developing Tools for the First Gate
Part 4 – Project Portfolio Management Reporting and Review.
https://forwardmomentum.net/wp-content/uploads/2013/11/balance.jpg
288
417
vwrona
https://forwardmomentum.net/wp-content/uploads/2019/01/fm-logo-low.jpg
vwrona
2013-10-31 11:22:18
2016-05-03 07:23:11
Balancing Project Portfolios:
The Double Dimension